A remarkably simple kneeless walking machine driven partly by motor and partly by gyroscopic reaction.
About this creation
Please feel free to look over the images and skip the verbiage.

∨ Behold the "gyropod", a simple motorized LEGOŽ walker with a gyroscopically driven shuffling stride...



∧ The onboard L motor just spins the flywheel and forces it to nutate (nod up and down). Reactive gyroscopic torques acting on the rapidly spinning flywheel do the rest.

As you can see at 0:47, net travel without the spinning flywheel and its large axial moment of inertia is nil. That's because the forward steps are actually gyroscopic precessions induced by the flywheel's forced nutations.

∨ Taking the gyropod on a walk...




∧ Look, boy -- a squirrel!

Operation couldn't be simpler:
Use full power to get decent travel speed.
Reverse the motor to reverse the direction of travel.
Pull gently on the "leash" to steer.
<< Back to top
---
---

Background

∨ In 1981, noted American roboticist John Jameson introduced this "Walking Gyro" (good description at link in photo credit below). His goal was a dynamically balanced kneeless walker of the simplest possible design.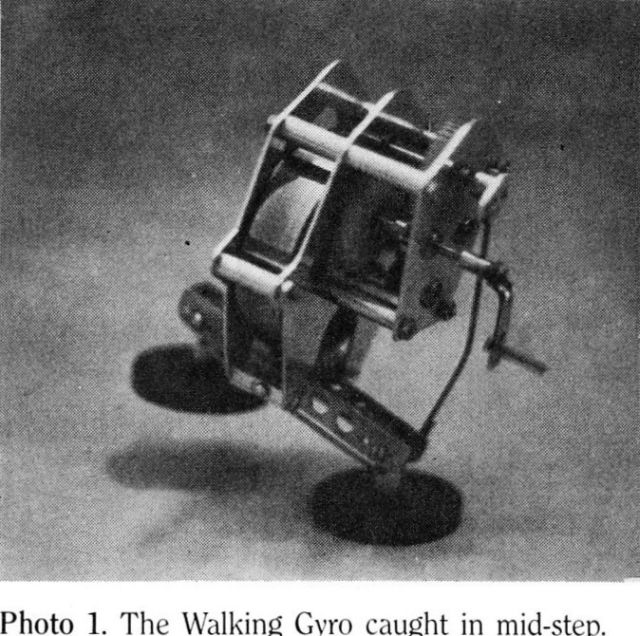 ∧ Photo credit: Reuben Hoggett's write-up at cyberneticzoo.com.

A few years later, Jameson's concept found its way into at least 2 commercially successful walking robot toys -- one of them in the Tonka Gobot line.

∨ Various DIY versions of Jameson's walker have also appeared, including Jeff Kerr's 3D-printed "Gyroman" (2015)...



∨ and Bernard Perier's 2017 Meccano implementation...



∧ But I have yet to find another LEGOŽ version. Granted, my walking gyro doesn't lift its feet completely off the ground like the others shown here, but at least it shuffles along at a respectable clip (~0.030 m/s or 0.11 kph). And let me tell you, even that took a tremendous amount of fiddling.

≪ Back to top


---
---

Optional: Engineering notes

Goldilocks would have hated this project, as many parameters had to line up just right for the blasted thing to work at all. Most of the combinations I tried either rocked in place (as at 0:47 in 1st video) or fell over after a few forward steps.




Like Jameson's walker, the gyropod manipulates the angular momentum of a rapidly spinning flywheel to achieve the 2 essentials of kneeless walking:
Lift -- or at least deweight -- the feet and swing them forward, one after the other.
Stay upright in the process.
Like a human or chimp, the gyropod doesn't need to keep its center of mass (CM) directly over its ground contact to stay on its feet. Balance during walking is instead maintained dynamically -- but in a way far simpler than any living biped does it.

∨ The onboard motor doesn't drive the feet directly. It just drives flywheel spin and nutation at the same time. An L motor offered the best combination of speed, torque, and weight for the job.




∨ Since a misaligned motor delivers less power to the spin and nutation drives, I recruited 7 of the L's 14 attachment points to keep it from wiggling loose under the motor platform's reciprocating motion.




∨ A crank on the motor shaft (bottom center) causes the motor platform to rock up and down as it turns. This rocking motion forces the flywheel to nutate (nod up and down) as it spins, and that in turn causes the flywheel to precess fore and aft. Chassis reactions to these flywheel motions lift the feet and swing them forward one at a time.




∨ The motor platform pivots on a "pelvic" frame bearing the legs and feet.




∧ As we all know, knees have many advantages. But they greatly complicate any walker, and Jameson was determined to keep his walker as simple as possible by doing without.

∨ The legs swing freely from side to side at "hip" joints on the pelvic frame. A simple parallogram linkage forces them to swing together in a waddling gait essential to the gyropod's dynamic balance and travel.




∧ Finding workable feet turned out to be the hardest part by far. The simple foot disks used on most walking gyros failed miserably, and so did countless bricks, plates, dishes, and sideways wheels.

The lightweight "bird feet" above emerged after hours of trial and error. The spring they provide seems to be important, and they have to be pigeon-toed to get a decent travel rate without falling over. Even more time went into trying to get the feet to lift completely off the ground, but a shuffling gait was the best I could do.

∨ Of the many, many flywheels tried, this 68.8x36 ZR tire (44771) on a 56x34 medium racing wheel (44772) turned out to be the best performer. At full power, it takes ~12 seconds for the flywheel to reach maximum spin rate (~3,200 RPM), but walking commences ~7 sec after start-up.




∨ Properly supporting the gear and flywheel shafts while minimizing overall weight (an absolute must here) presented a real challenge. Overhanging the flywheel turned out to be a viable solution.




∨ Matching the flywheel to the transmission used to spin it -- and vice versa -- took many iterations. In the end, this 3-stage 1:15 overdrive worked best.




∧ Due to the reciprocating motion of the motor platform, the gear shafts show clear signs of wear after only an hour of operation, but the gears themselves seem to be holding up well.

∨ The freely rotating battery pylon used in the 1st video turns on an even cheaper version of this ball bearing platform by Sariel.



<< Back to top


---
---
Specifications
| | |
| --- | --- |
| Construction: | Studless |
| Overall dimensions: | 104x69x168 mm (LxWxH) |
| Mass: | 160 g (excluding battery and pylon) |
| Flywheel: | Overhung medium racing wheel (44772) with ZR tire (44771) |
| Motor: | Single L driving flywheel spin and nutation |
| Flywheel spin transmission: | 3-stage 1:15 overdrive |
| Max flywheel spin rate: | ~3,200 RPM |
| Min flywheel spin-up time: | ~12 sec |
| Max nutation angle: | 7° |
| Max step rate: | ~140 steps/min |
| Max travel rate: | ~0.030 m/sec = 0.11 kph = 0.067 mph |
| Electrical power: | 7.4V from external PF LiPo rechargeable |
| Battery mount: | Freely rotating external pylon |
| Modified LEGOŽ parts: | None |
| Non-LEGOŽ parts: | None |
| Credits: | Original MOC inspired by John Jameson's walking gyro |
| See also: | Technic free (2-DOF) gyro, LEGOŽ spinning top folder |
<< Back to top
More from Jeremy
More across MOCpages